Darlene Winfield
Price range: $300-6000
---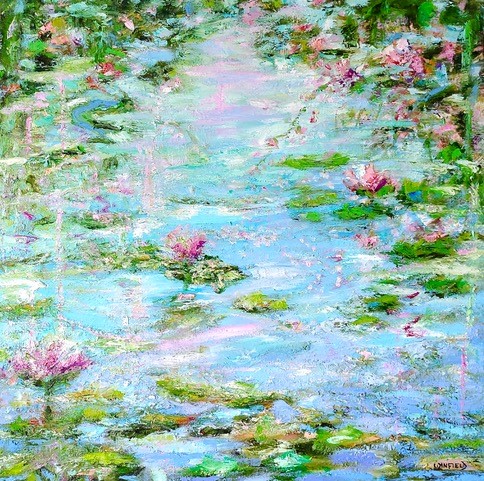 Somewhere between Perfection and Reality
48x48" oil on canvas
$3950.00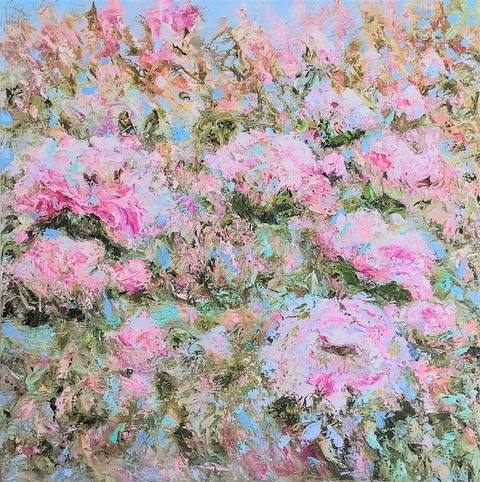 Untamed
48x48" oil on canvas
$3950.00
---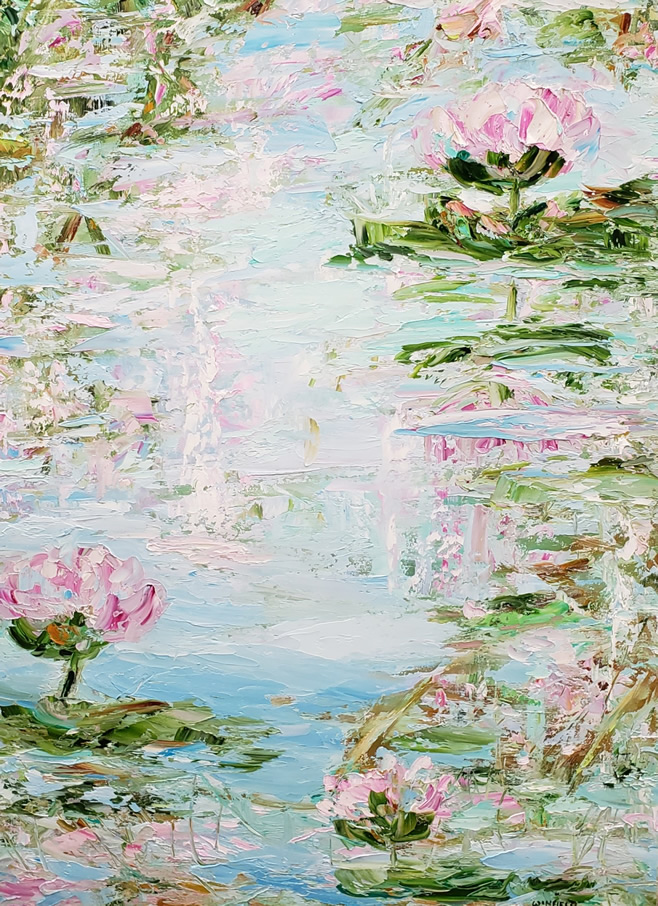 Waterlillies
30x40 oil on canvas $1850.00
---
Delightful
30x30" oil on canvas $1500.00
---

Sweet Reintroduction
24x60" oil on canvas
---
---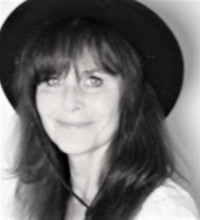 Darlene paints in an impressionistic semi abstract style. Created using brushs, palette knifes, and mixed media when desired. Paintings are completed in layers with dramatic strokes offset by quiet spaces within the painting. The atmospheric quality and depth of the painting are most important to her enabling the viewer to enter the world she creates on canvas.

Darlene has spent extended periods of time in Mexico, Indonesia, Europe travelling the world going to historical sites and art galleries. In Mexico, she dabbled in advertising and film. While in Indonesia, she volunteered with the United Nations. These experiences brought Darlene to a profound understanding of the world and our place in it. The chance to experience other cultures and their arts is invaluable to her education. She was constantly sketching and dreaming of oil painting during that time. When the opportunity to finally paint large scale, Darlene immersed herself into life as a full-time artist. The history and longevity of oil painting are important to her. The buttery texture, smell and feeling oil paint gave her as she dipped her brushes as artists have for centuries informs her every movement.

Darlene has been juried into numerous shows including The Artist Project and The Toronto Outdoor Art Fair. In January 2017, Rogers Cable TV, York Region featured Darlene and her work in the segment Colour and Vision: Portraits in Art. She has been showcased on Stella Jurgen's Show twice and was awarded placement in the Top 60 Contemporary Artists for 2018 Art Tour International. Her work is now showcased at various locations and art galleries in Ontario.
---

previously sold works