Matthieu Binette
Price range: $500-10000
---

Trio 31x6" Bronze 1/1
---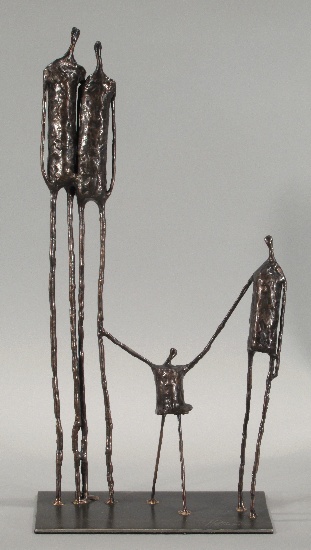 Scene famillale III
25x12 Bronze 1/1
---
---
Matthieu Binette has learned not to use an eraser. "A tip from my father, Berthin, who did his fine arts and was a teacher for 30 years. The error does not exist. So there is nothing to erase. Wise teaching if there is one, since without this notion which induces the fear of being wrong, learning and imagination or discovery are favored. Born in Timmins, Ontario, in 1977, but having grown up in Sherbrooke, Matthieu is one of those on whom school, an obligatory place of passage, has little impact. According to Ivan Illich, the state education system would worsen what it is supposed to improve anyway, since it destroys or devalues ​​autonomous productive capacities and, if you think about it a little, important learnings come from random circumstances.
Matthieu Binette's artistic approach takes form in 1999, when he develops an unusual technique for creating his sculpture. Binette takes recycled metal wires, and melts them "drop by drop." It is the accumulation of these metal drops that creates his figures and gives them their unique texture and elongated form.
EDUCATION
1999-1997 Visual Arts Degree, CÉGEP de Sherbrooke
2002-2000 Studies with sculptor Claude Hunôt, Rougemont
2000-1999 Specializes in artistic ironwork with sculptor Jean-Marc Tétro, Sherbrooke
EXHIBITIONS
2011 Chase Gallery, Beaconsfield
2009 Salon du printemps, Fine Arts Museum, Sherbrooke
2009-2007 Galerie Le Royer, Montreal
2009-2004 Galerie des Artistes des Cantons, Magog
2009-2003 LaNef, artist center, Sherbrooke
2007 FIMA, Festival international de Montréal en Art, Montreal Flora international, Montreal
2003-2002 Symposium de Dudswell, Quebec
2002 Rencontre X (10th edition), St-Jean-sur- Richelieu
2002-2000 Salon des Métiers d'art du Québec, Sherbrooke
2001 La Grande Virée Artistique (1st edition), Sherbrooke Galerie ArtAzo (solo exhibition), Sherbrooke
2000 Art-Circuit (1st edition), Sherbrooke
ARTISTIC ACHIEVEMENTS
2009-2003 President of the Board for the artist center LaNef, Sherbrooke
2008-2004 Curator for LaNef, Sherbrooke 2006 Creation of a permanent installation outside LaNef
2006 Artistic director for Jeunes Volontaires, Sherbrooke
2005 Live sculpture show to profit the CHUS Foundation
2003 Auction to benefit the Alzheimer Society, in collaboration with the Fine Arts Museum of Sherbrooke
2002 Founder of the artist center LaNef, Sherbrooke
---

---

previously sold

. . . .