Sacha Barrette
price range 1000-5000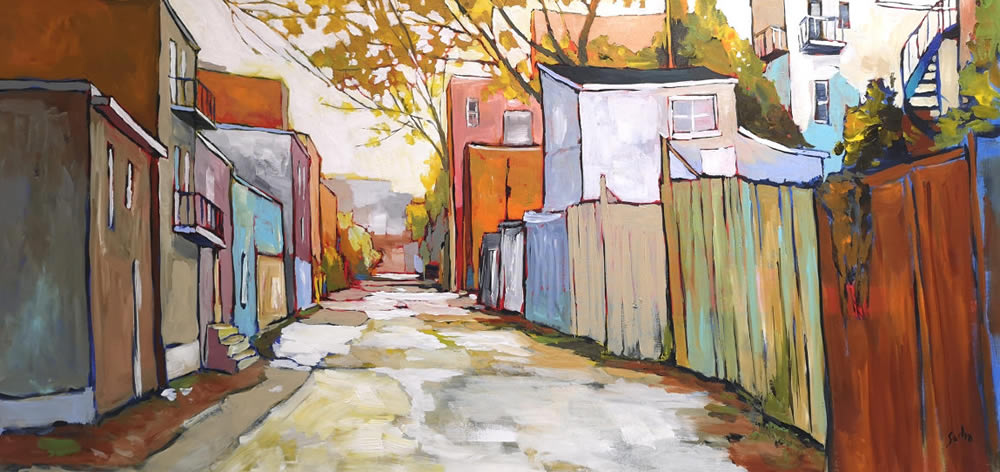 Ruelle large cloture
36x60" acrylic on canvas
---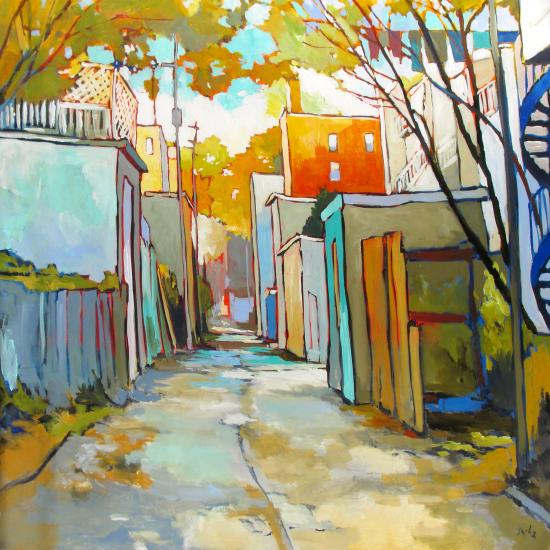 Ruelle Eternal
48/x48 acrylic on canvas
---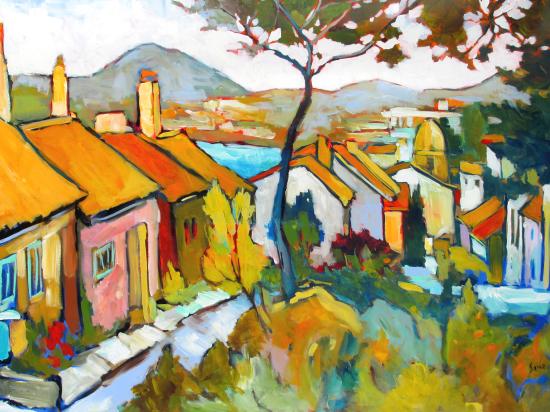 Collioure Rue ...
48x36 acrylic on canvas
---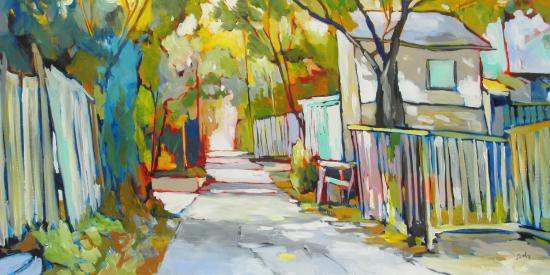 Ruelle du Bonheur
48x24" acrylic on cavas
---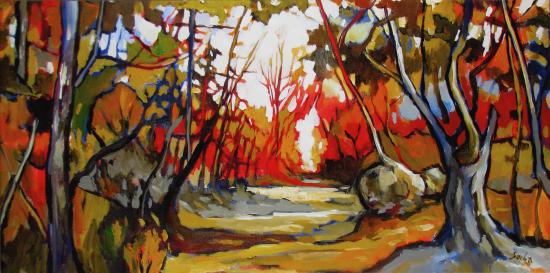 paysage
48x24" acrylic on canvas
---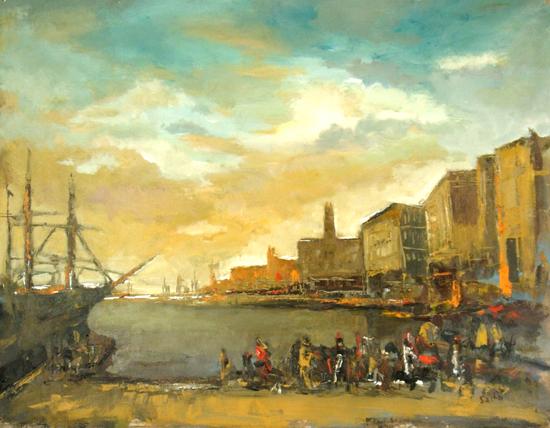 Homage Baroque
48x36 acrylic on canvas
---
Sacha left his native region for Montreal, obtained in 1982 a Bachelor's degree in graphic design from the University of Quebec in Montreal and worked in the visual arts field for numerous advertising firms. He taught private painting classes until he decided to devote himself entirely to his art.
He has traveled throughout Canada, The United States, Latin America and France, rebuilding his palette of colors and reaffirming his style. Currently he resides in the Quebec countryside where he found not only the colors he had experienced in his travels, but also the joy of painting
He works with color in such a way as to keep its original purity, thereby giving the subject its unique shape, texture and light, all applied "almost flat". Hence, the colors are allowed to express themselves.
ACCOMPLISHMENTS

1997 Participates in an important serie focused on Chili's culture; meets and associates himself with the head of the "Centre multiculturel - La Fondation Victor Jara" in Santiago, Chile.
1996 Illustrations for the book "L'Histoire de Nelson", written by Joane Lalancette, édition d'art La Sauvagine; and contributes to the Ste-Justine Foundation in Montreal.
1994 Teaches visual arts with his wife in a private school located in the State of Oaxaca in Mexico.
Creates a fresco in a dome for Mr. Santibanez.
1992 Meets with the film-maker Guido Lombardi and executes, at his request, "Cinq tableaux souvenirs" of scenes taken from the set of the movie "Vandetta".
Gives private painting courses in the Outaouais region.
1989 Participates in the creation of different live paintings in Montreal.
1988 Associates himself with the famous comic strip creator named Prouche in order to complete the comic strip based on the history of Alphonse Desjardins.
1985 Teacher's assistant in a drawing course in graphic design at the University of Quebec in Montreal for the professor Maurice Macot.
Creates a comic strip for the Comic strip by computer Forum in Ghand, Belgium
EXHIBITIONS

2011 Keystone Gallery, Calgary, Canada
2008 Harrison Galleries, Vancouver, Canada

2007 State Of The Art Gallery, Toronto, Canada

2004-2001 Pavillon des Arts de Ste-Adele, Quebec, Canada
2000 State Of The Art Gallery, Toronto, Canada
1999 Art Expo, New York, USA
1998 Exhibition in Mexico city
Took part in ¨La Tournée des Vingt¨, open-door exhibition
presenting 20 artists of the the Brome-Missisquoi region.
Solo exhibition ¨L'Art de l'Epoque¨, Aylmer, Quebec.
Trio exhibition with ¨Le bateau lavoir¨, centre d'art contemporain de
Montréal; "Le Belgo", Montreal.
1997 Took part in the ¨Festivart¨ of Frelighsburg.
Solo exhibition "Voyage au Chili", "L'Art de l'Epoque", Aylmer, Qc.
1996 Group exhibition of ¨Le groupe des Artistes Associés¨, Val-David, Quebec.
Solo exhibition, "L'Art de l'Epoque", Aylmer, Quebec.
Exhibition with " l'Association des peintres professionnels du Québec",
Place Ville-Marie, Montreal.
1994 Permanent exhibition, "Galerie d'art Jaccar", Aylmer, Quebec.
1993 Exhibition, McDonald Club, Ottawa.
Exhibition, ¨La Petite Maison des Arts¨, Montreal.

1992 Exhibition, ¨La Boutique d'art d'Outremont¨, Outremont, Quebec.
Exhibits with ¨Mouvement Pinceau¨, Montreal.
Exhibition of Watercolours ¨Vues sur Montréal¨, "Galerie d'art Le Néoniste", Montreal.
1990 Exhibition, "La Maison de la culture de Rivières des Prairies", Rivières des Prairies, Quebec.
1988-89 Exhibits with painter Arthur Villeneuve, Place des Goélettes, Chicoutimi, Quebec.
Exhibit "Galerie d'art L'Imprévu", Montreal.
1987 Exhibits with ¨Le Groupe des Arts¨, Montreal.
First exhibition, "Galerie d'art Le Néoniste", in Montreal.
download printable biography
previously sold works