Joe Sampson
Price range: from $1000
---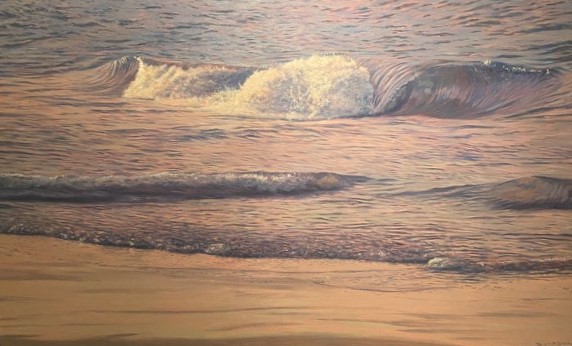 Evening Roller
60x36" oil on wood
---
Light Within
12x24" oil on panel
---
Evening Glow
48x36" oil on wood
---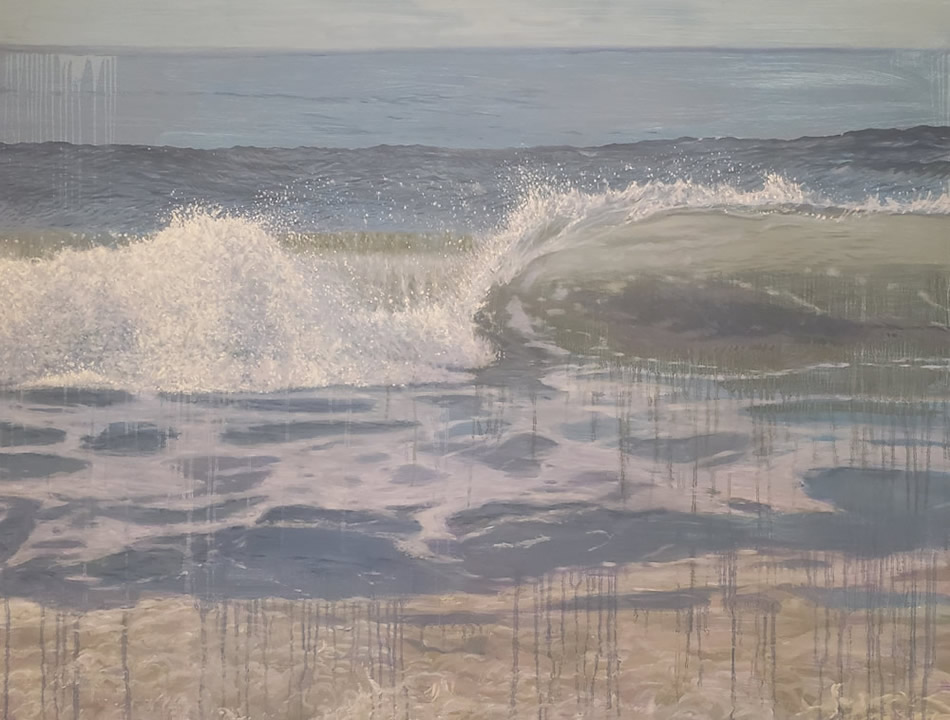 Here it comes!
48x36" oil on wood
---
Around the bend
36x48 oil on wood
---
---
"I believe water to be one of the most challenging subjects to capture, its constantly moving and changing shape and colour. A dynamic composition and an understanding of colour light and shadow are my artistic goals. Creating a mood and feeling help me achieve my ultimate goal, which is capturing a moment in time and holding it forever."

Drawn to shorelines, beaches, lakes, oceans and streams, water is Joe Sampsons focus. Joe uses water imagery to depict the dichotomy between movement and immobility. A detailed understanding of light's ability to create color, shadow and tone is utilized to set mood in each painting. Whether it be cold, warm, tranquil or tempestuous, the waters' magnificence strikes the viewer and an emotional connection made.

From a distance, the viewer is drawn towards what appears to be a photograph. Upon closer inspection, brushstrokes are revealed and the observer is made aware of the meticulous layers of brushwork, resulting in the illusion that the viewer is still for an instant, at the waters' edge.
Education
1995: Ontario College of Art and Design, Graduated with Honors
Solo Exhibits
2014: Studio House PEC
2013: Harbour Gallery
2011: Harbour Gallery
Group Exhibitions
2014: Affordable Art Fair New York

2007-2004: "The Toronto Art Expo"
2007-2006: "The One of a Kind Show" Visual Art Gallery, Toronto
2007,2003,2001: "The Toronto Outdoor Art Exhibition", Toronto
2007-2004: "The Oakville Art in the Park", Oakville
2006: September: "City Field North Shore" Niagara St Gallery, Toronto
July: "The Cobourg Art in the Park"
June: "The Windsor Art in the Park" Windsor
Awards
"The Oakville Art Society Annual Jurried Show" Best in Show "Ron Middleton Award."
"Etobicoke Civic Centre Annual Juried Show" The Peoples Choice Award.
---
In The Press
The Toronto Star - "An Artist Becomes the Water Guy"
Toronto Home Magazine - "Making Waves with Water"
Connecticut Cottages and Gardens Magazine
West of the City - "Artist Profile: Joseph Sampson"
Arabella Design - "Artist to Collect"
Waterkeeper Foundation - "Artist Feature"
Invest In Style - "The Art of Conversation"
---

Previously sold works