Paul Peregal
Price range: $2000-5000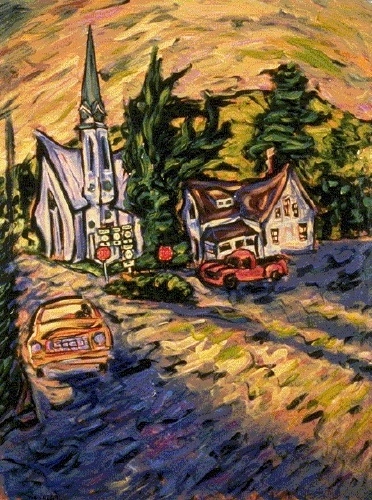 Twilight Town, Jeffersonville Vt
48x36" original on canvas
---
Ludgate Hill, London

36x30" original painting on canvas

St Mary le strand

30x36" original painting on canvas
---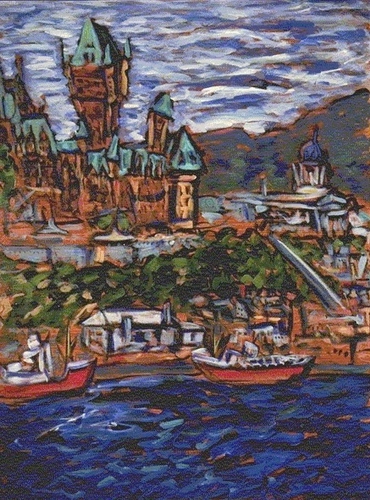 Chateau Frontenac, Quebec City
48x36" original on canvas
---
contact us
Paul Peregal attended the School of Art and Design at the Montreal Museum of Fine Arts under the directorship of the founding member, Arthur Lismer of the Group of Seven. Lismer was Peregal's colour theory instructor. 

The artist has painted in Canada, the U.S., England, Denmark, Israel and France. His work figures prominently in collections throughout the world. 

Peregal's subjects are generally people and landscapes. Chamber music and jazz are an integral part of the artist's painting process and have been a significant influence on his work. Peregal's jazz paintings are not solely depictions of jazz musicians, they are jazz – visual jazz. Their explosive energy is clear, spontaneous and emerges from his driven vitality within the space of an expanded present, externalizing the intense visceral and intellectual fermentation of his rich inner life. As with great jazz musicians, Peregal has perfected his technique and developed a unique style to the degree that it manifests itself unselfconsciously and serves as a platform for the creative moment. His images are painted with thick black strokes that melt and enliven the profusion of vibrant colour creating a kind of pulsating stained glass.

Peregal's formative years were inspired by the London School. Bacon, Sutherland, Freud, Auerbach, Kossoff, Kitaj and John Bratby threaded his evolving plastic tapestry bound by Kokoschka and Soutine. His roughened and melted portraits are strikingly disarming with an uncanny grasp of the vital essence ticking away deep within the subject's dissembled psyche. A few of the portraits include Leonard Cohen, Mstislav Rostropovich, John Mortimer and several paintings of Dylan Thomas. 

Landscapes too, cannot remain a static recollection. Hills and houses throb and twist, bob and weave a tortuous humming existence. These, as with all of Peregal's works, are bold and vital statements celebrating a timeless humanity in the poetry of colour and form.