marc Lessard
WHAT'S YOUR GOLD
Marc Lessard sets a tone by bringing popular culture and business together. In this series, Lessard shows a particular interest in deconstructing brand images by introducing his own message that gold is here to stay; an idea that is reinforced by the word play of "In Gold We Trust" in the background instead of "In God We Trust". Despite new types of virtual currencies, Marc Lessard uses a creative process to share the message that gold is here today and will always be here. He therefore leaves a trace of this precious metal on each of his canvases by applying 24K gold leaves. In these works, Lessard combines collage, spray paint, acrylic paint, pencils, and paint markers. The result of which are original, one-of-a-kind works.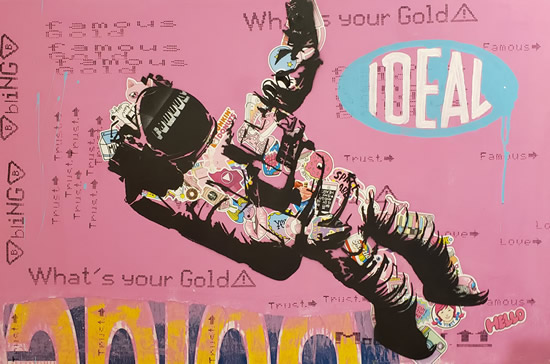 Ideal
Mixed media on canvas 24x36"
---
Jador Bleu
Whats your Gold
Etching on paper 22x30"
---
---
---

Born in 1968, Marc Lessard has a passion for painting and design. Active in the Montreal scene he has also exhibited in New York (USA).
An accomplished musician and composer for Cirque du Soleil, he composed, alongside his associate, Guy Dubuc (their team known as Bob & Bill) the music for nine shows for the elite circus company of Quebec: Totem, Amaluna, Kurios: Cabinet des Curiosités , Toruk: The first flight, Paramour, etc. Today, Lessard's artistic methods include inevitably music and painting, with one complementing the other. His creative methods are based as much on language as on expression.
Works produced by Marc Lessard are based on the surrounding urban and industrial world. He strives to bring out the aesthetic side of these environments. Instinctive and dynamic, his works are the result of a mixture of vibrant colors and many techniques, such as digital printing, acrylics, oil painting, sanding, scraping, collage, graffiti, and the use of stencils. Marc Lessard's artistic exploration takes shape, thanks to the help of canvas, handmade paper, wood, and metal.