Hyun Jou Lee
price range 1200-10000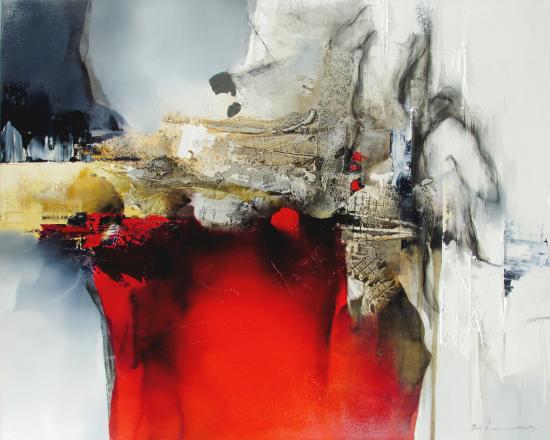 Poetry of Movement
48x60" mixed media on canvas
---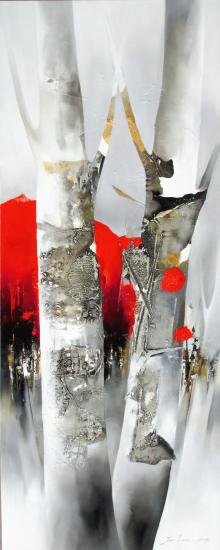 Inner Emergence
mixed media 60x24"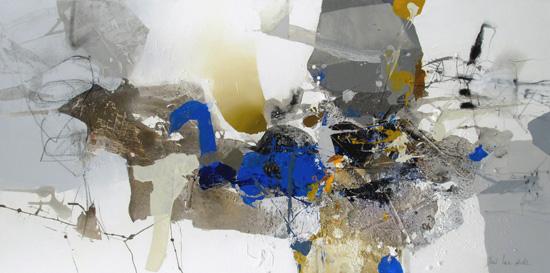 A Variation 30x60 mixed media on canvas
---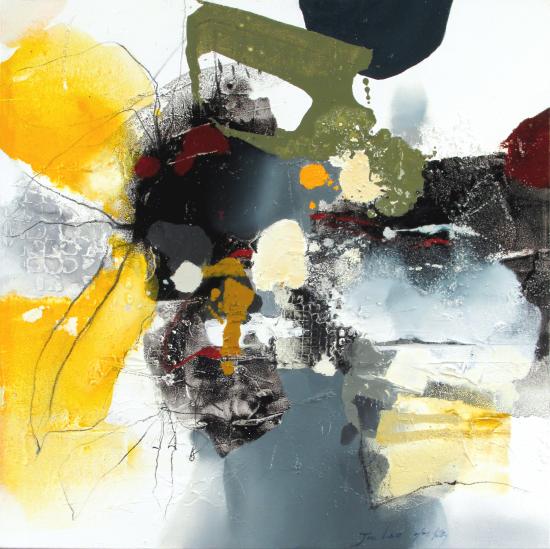 24x24 mixed media on canvas
---
24x24 mixed media on canvas
---
Jou Lee has a symbiotic relationship with her artwork. She looks for guidance from the canvas, often surprised by the finished result. She begins by applying a thick gesso, to create relief and give dimension to the piece. Jou Lee experiments with many mediums, using principally oil and encaustic. Her colour palette is extremely broad; ranging from the very organic to the brightest colours of spring: the difference depends on the story the artist is trying to tell.
Studio Visit
---
---
past sold works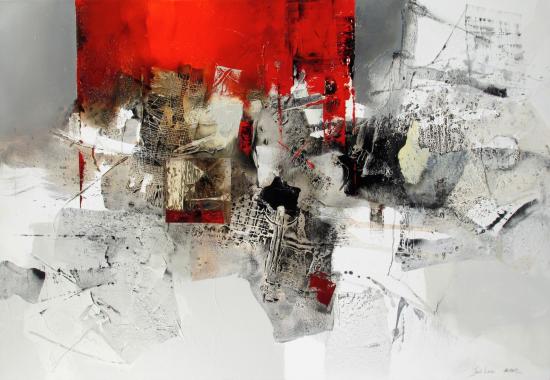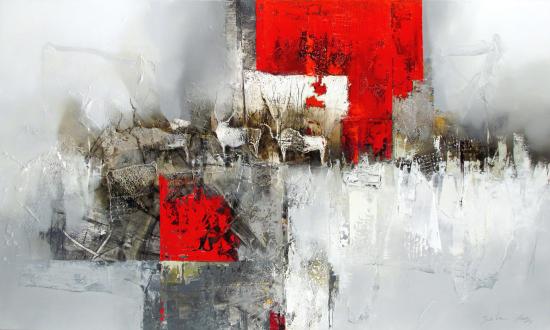 ---


---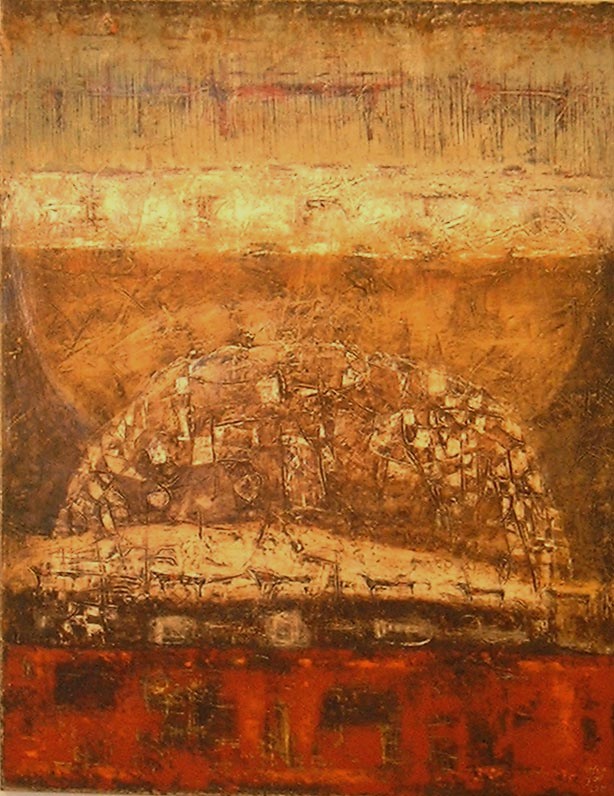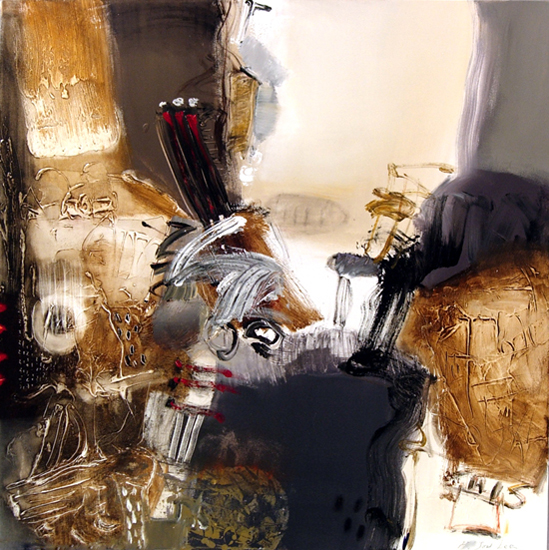 ---
Born 1965 in Korea. At age seven, she left her childhood home to attend school in Seoul. She went on to study at the Women's University in Seoul, where she earned her Bachelor of Fine Arts. Her thirst for discovery led her to Montreal in 1994, where she studied at the Saidye Bronfman Center. She started exhibiting locally, and has since been showing work in galleries in Canada, the United States and the United Kingdom.
Nature takes a very important place in her heart since her youth. . Long time before she left to Seoul, she would spend hours and hours watching the tide as if she would never see it again. Her long walk along the seashore then provided to her rest and warmth that she has since been looking for.
The movement on the canvas is brisk as moved by a thirst for freedom still unquenched. Mmultiple forms isolated or intertwined bring a quiet and tranquil vision, the kind that would emerge after a terrible struggle between all the different forces of nature. The geometric constructions, sometimes barely visible, are then as marks of a fight where the canvas is a battlefield.
EDUCATION

1994-96 Studies at Saidye Bronfman Centre Art School
1992 B.F.A. (major in painting), Ewha Women University, Seoul, South Korea
SOLO EXHIBITS

2011 Catalogue launch & Retrospective exhibition, Espace Galerie Dimension Plus, Montreal, Québec
2010 Edmund Craig Gallery, Texas, United States
2008 Galerie Robert Senneville, Sherbrooke, Canada (duo)
Edmund Craig Gallery, Texas, United States
2007 The Village Gallery, Mississauga, Ontario
2006 Galerie Clarence Gagnon, Montreal, Canada (duo)
2005 "Afternoon Confession", Centre de créativité du Gesù, Montreal, Canada
2004 The Village Gallery, Mississauga, Ontario
2001 Arts N.D.G., Montreal, Canada (duo)
2000 Galerie Estampe Plus, Quebec, Canada
1999 "Souvenirs d'Emwon", Centre de créativité du Gesù, Montreal, Canada
1998 "Inner Emergence", Belgo Building, Montreal, Canada


GROUP EXHIBITIONS

2005 Bering & James, Houston, Texas
2004 Art Corée 2004, L'Agora de la Danse, Montreal, Canada
Galerie Estampe Plus, Quebec, Canada
2002 State of the Art Gallery, Toronto, Canada
Art Corée 2002, Galerie @1637, Montreal, Canada
2000 Art Corée 2000, Quebec's Association of Korean Artists, La Cabosse
d'or, Otterburn Park, Quebec
1999 Plein Sud, Longueuil, Canada
1999 Kamena Gallery & Frames, Edmonton, Canada
Perspectives '99, Living Arts Centre, Mississauga, Canada

1993 Young Artists Festival, Baksang Gallery, Seoul, South Korea
"The wave of appearance," Seoul Gallery, Seoul, South Korea

"Feminism," Dori Gallery, Seoul, South Korea

"From today to tomorrow," Kwanboon Gallery, Seoul, South Korea
1992 Ba Tang Go Gallery, Seoul, South Korea

COLLECTIONS
Her works are part of many private collections in Canada, France, South Korea and in the United States.
Corporation: Pratt & Whitney, Canada
Public: Bae Hwa Women's High School, Seoul, South Korea

PUBLICATIONS
Michelle Gagnon, "Cash & Carry Art - Act now," Hour, May 28 - june 3, 1998
"Lee Hyun Jou Solo Exhibition in Montreal," Korean Times, November 4, 1998
Émilie Poiret, "Espaces intérieurs," Vie des Arts, No 173, Winter 1998-99, p. 67
"Qui sont ces ethnies? - Montreal Asian Heritage Festival" May 13, 1999
"Lee Hyun Jou Art in Toronto," Korean Times, November 2, 1999